On this page you will find a chronological listing of seal observation notes for the current seal watching season, as well as short essays inspired by the people and creatures encountered on our nature walks and outdoor adventures. We hope you enjoy these notes and essays. If you have any seal observations to pass along or just want to say hello, contact us at
romepointseals.org
10-18-2013
18 seals hauled-out; 65 degrees, wind SW 10 to 15, partly cloudy, 12:25
First seal walk for Fall 2013 season.
We finally made time for a quick seal walk this afternoon and were rewarded with a very interesting seal observation... for the 15 minutes that it lasted. We counted about 20 seals on the rocks from way down the beach, but by the time we made it to the point there were more seals swimming around than there were on the rocks. The seals were obviously agitated, with a fair bit of splashing and some jumping action going on as the seals hauled out again. We counted quickly as a sailboat approached, which was good because with one flap of the mainsail, all of the seals took to the water. Most seals stayed around for several minutes, but the boat was slow to depart and at one point made some maueuver that served to frighten the seals sufficiently so that four seals simultaneously made a big splashy commotion as they fled.
That big splash signaled the end of the seal observation, but not before we spotted several unusual sightings on the rocks. Most notable was the presence of a Great Blue Heron on the seal rocks; a sight we have never seen before in over 550 observations. "Blues" are a most favored good luck talisman in our world, so the sight of a blue heron was an auspicious favorable omen that we were very pleased to see. Less pleasing was the sight of a seal with two loops of netting around its neck; this double entanglement was another first for the seal sighting chronicles. Both loops of net cord were tight around the animal's neck, but the seal did not appear to be in distress. These two unique observations made this first seal walk of the season worthwhile, and the flurry of seal activity provided an interesting, albeit brief, marine mammal observation.
We returned for a quick check on the seals on Saturday, but a perfunctory look-see from the end of the road revealed boats and kayaks in the area, but no seals on the rocks. This is to be expected on a warm, calm weekend day; however, in just a couple of weeks as temperature drop and blustery winds pick up we expect that the seals will be left undisturbed on most days.
4-26-2013
25 seals hauled-out; 55 degrees, wind SE 10 to 15, clear, 12:00
Last seal walk for Spring 2013 season.

We made time for a fast seal walk at noon today and enjoyed a quick picnic on the beach with no one else around on this beautiful Spring day. Seals will probably remain in the bay for several more weeks, but our attention will be diverted to other pursuits and pastimes as the weather warms up. The brisk south wind was not the best for seal observation, as has been the case for the last two weeks; but we were glad to have one last look at the seals of Rome Point before we make our way to Maine to work... and to seals next weekend. Our Rome Point seal watching season ended today, but that merely signifies a change of seasons to other nature explorations; by 2:30 in the afternoon we were being serenaded by a chatty kingfisher as we launched our first kayak outing of 2013 on the Wood river.
The following end of season essay was composed and uploaded on May 5, 2013
The past seal season featured a number of significant highlights, including excellent early-season seal observations, newly revealed insights into the seals' behavior, and outstanding seal watching from late February through early April. There was a rough stretch in December when the seals were being chased away more often than usual by watercraft, and for the second season running we spotted lower numbers of juvenile seals. In addition, the weather and tides could have cooperated better during the holidays and the school vacation weeks, but all told the seal watching this season was on par with past years in terms of being both interesting and enjoyable as far as we are concerned. It did seem as though the weekends did not generally feature especially good seal watching, which was unfortunate for those seal seekers who do not have a chance to visit Rome Point as regularly as we do.
Some changes at Rome Point were notable, with storm damage including downed trees on the trails and significant shoreline erosion. It looks like additional attention is being paid to this gem of a preserve by the RI Dept. of Environmental Management Parks division, which we hope will ultimately result in the construction of sorely needed rest room facilities. The increasing presence of invasive species in the inter tidal zone was troublesome, and the prospect of expanded aquaculture operations in the bay has us on the alert in case intervention is necessary to protect the seals' haul-out habitat. We also missed the company of a few Rome Point regular visitors from seasons past with whom we did not cross paths with this season, and we hope they are faring well.
This past season, we have found our walks at the Rome Point preserve ever more invaluable in providing a personal refuge from the everyday trials and tribulations of modern life. From harsh reality of Newtown and Boylston Street, to partisan political polarization, to crony hyper-capitalism on steroids, to economic uncertainty for many families, all taking place against a background of noise of media cacophony documenting daily assaults to decency and sensibility, we seek shelter... and Rome Point always provides. We are so fortunate to have this interesting nature playground available to all citizens to come and go as they please, and our own lives would be significantly less fulfilled... and more stress-filled... if we did not have the Rome Point seals to keep us occupied, amused, and invigorated during the winter months.
Our hikes at Rome Point never fail to cure cabin fever, and can be an antidote to the insidious "information fever" that is, in our view, afflicting society at all levels. The information revolution in the form of smart phones and social media surely has a place in our lives, but as with all technology there are pitfalls to be avoided; and as the virtual world becomes more of a focal point of human existence, we sense that dangerous game is afoot. We are seeing more signs of a "kid-in-the-information-candy-store" mentality, wherein the mindful mastery of technology is replaced by an "all-you-can-eat" info-buffet that that may prove to be a less than desirable evolutionary adaptation. We are far from technological Luddites, and I work with highly sophisticated electronic technology routinely in my business, but I am master and the gadgets are the servants in my work, whereas some of the info-tech interactions I have witnessed have made me pause to consider whether the roles of master and servant are undergoing a reversal in our society today.
Just yesterday I watch in amazement as 5 twenty-something young adults, in two groups, all whipped out smart phones within 20 seconds of being seated in a pub-restaurant setting and proceeded to interact with their appliances with much greater attention than they gave to their peers... let alone to anyone else in their vicinity. Only after an initial flurry of on-line activity did they start to have conversations, the gist of which were based on, or were steadily supplemented by, their interweb info consumption. Interestingly, as one conversation turned to activities in Acadia Park, I was struck by the fact that a knowledgeable Acadia hiker and nature guide (me) was sitting only three feet away, but it would have never occurred to them to engage with a living human who knows current info about wind and tide and road/trail closures and where the best hikes are for the current conditions. It struck me that their reliance on information technology was actually causing these affluent, well-educated young people to be less informed than the old school approach of striking up a conversation in a bar, and it made me sad to think of the opportunity lost for them as well as for myself.
We have seen some of this at Rome Point as well, and it has caused me to be more tentative about telling visitors that we encounter on the beach about this website. On several occasions while observing seals, when I mentioned that I maintained a website about Rome Point, smart phones were immediately produced and the site was loaded, despite the fact that the seals... and the whole nature experience of the water and the beach and the wind and the birds and the people was right there before our very eyes. Something about this reflexive behavior has struck me as incongruous and disheartening, almost as though the experience is not real until validated by the Internet. On the other hand, people are finding this website on their own and we get nothing but positive comments about how useful and informative it is from the families who want to know when, where, and how to see seals at Rome Point. This serves to illustrate the point that technology is best used as a tool, with a clear objective in mind; otherwise, it is far too easy to fall down the Alice in Wonderland rabbit hole of mindless drifting on the information superhighway... or worse yet, to begin to live in Wonderland itself. In our view, just as mindful nature observation is far better than an aimless walk in the woods, the relaxed, purposeful use of technology holds great potential for personal and societal enrichment, but we fear that undisciplined feasting at the techno-banquet is having a serious disruptive influence on the mental well-being of some adults, and most disturbingly, more than a few children. Walk around in the forest aimlessly for long enough and you are bound to get lost... keep on going, and you might not ever be able to find your way again.
Fortunately, our own blessings are many and we have somehow sustained the ability to hold our course true as we make our way from season to season. May all who read this be similarly blessed, and may a map and compass always be at hand to guide you on your way. The satellite GPS you hold in your hand could fail at any time and may lead you astray in a lot of different ways. No technology will ever steer as true a course in life as the sun, stars, and magnetic poles, besides, by staring obsessively at the GPS every three steps you risk missing the amazing panorama of the natural world and its human inhabitants. That's a steep price to pay, there is no taking back a wasted day, and we hope to meet you again as we follow our own way to the next season of the seals.
4-21-2013
36 seals hauled-out; 55 degrees, wind N10 to 15, clear, 11:00
A shift in the wind direction and a more favorable morning low tide made for more seals hauled out on the rocks today than we have seen for the past week. It looks like most of the seals have moved out of the bay, but we recognized several of the stalwart seals that we have been seeing all winter. Now that the bay water temperature is higher than 50 degrees F, we know from past observations that the seal watching season is almost over. The best birdwatching season of the year is about to begin, and this change of season was heralded by an immature bald eagle that flew right over the rocks as we were packing up to leave. We were glad to enjoy such an unusual sighting on this day when the seal watching was not especially entertaining.
4-17-2013
5 seals hauled-out; 65 degrees, wind S10 to 15+, clear, 16:00
The wind was slightly less annoying this afternoon when we first arrived, but the breeze picked up smartly as we were walking up the beach. We have seen a building south wind that increases in velocity right as the seals should be hauling out spoil the seal watching before, so we were not surprised at all when that happened today. The few seals that were hauled out when we arrived were not joined by any others seals as the wind speed increased. The consolation prize was once again provided by a pair of frolicking, flirtatious seals, who put on a short but impassioned display much closer to shore than the seals we watched yesterday.
4-16-2013
0 seals hauled-out; 60 degrees, wind S20+, clear, 15:30
It was way too windy for good seal observation today, and the tide was not favorable either, so we had low expectations for seal watching. The seals surprised us with a brief, fine show of active courtship behavior that took place in the middle of the bay in the direction of the "yellow house". We often observe seals swimming in this area and on this day the seal show was staged far away from the haul out rocks. We watched two pairs of seals frolicking and romping for about a half-hour, with nose-nuzzling and and splashy interaction revealing the seal's amorous intentions. The best sighting was an adult seal riding on another seal's back, which we actually observed twice in 15 minutes; we have seen pups riding on their mother's backs before in Maine, but never adult seals carrying on this way. These seals were at least 3/4 mile away and the scope was needed to observe them closely, but these seals saved the day for seal watching, as any day when we see behavior that we have never observed before is a good seal watch in our opinion.

4-13-2013
78 seals hauled-out; 55 degrees, wind NE 5 to S 10-15, partly cloudy, 13:45
2 seals on far rock for 80 seals total. An unusual seal watch today, with the peak number of seals observed 2 hours before low tide. The wind shifted to the south and picked up markedly at 13:50; then, seals started to leave the south rocks and the seals that were milling around in the water quickly vanished. By the time Linebelly took to the water at 14:15, the seal count was down to 65, where it remained for the remainder of the afternoon. The light was good for the scope and there were a fair number of seal seekers out and about, so we stayed late into the afternoon. We did spot one seal with a new net entanglement; the frayed white nylon was clearly visible, which served to differentiate this seal from another seal with a tight netting collar that was also present on the rocks. We did not get to see much interesting seal behavior today, and the most interesting aspect of today's seal watch was the way that the south wind acted like seal repellent. As soon as the wind shifted south and picked up speed, no additional seals hauled out and the seal that were on rocks with a southern exposure left the rocks. A few of these seals found other suitable rocks to rest on, but all in all the south wind had a definite adverse impact on seal observation today.
4-9-2013
145 seals hauled-out; 70 degrees, wind SW 10, clear, 11:45
5 seals on far rock and 3 at Greene Point for 153 seals total. Very good seal watching today with the warmest temperatures since last April. The seals were well-settled when we arrived, but at noon almost the entire herd spooked for no apparent reason. Maybe the seals were overheating in the hot, mid-day sunshine; we took shelter in the shade to cool off after 45 minutes on the beach. More likely, the seals were just nervous, as often happens when lots of seals are on the rocks. In any event, there were only 25 seals left on the rocks after the herd spooked, but this situation was quickly rectified as many of the swimming seals returned to the rocks to continue their rest. We have seen this before and know what to expect: battles for the prime resting rocks invariably follow one of these false-alarm spooking events when large numbers of seals are present. The seals did not disappoint with half-a-dozen good territorial battles observed in short order, some of which involved 4 to 6 seals. By 1:00pm, 103 seals were hauled-out and we enjoyed a marvelous spring afternoon sharing the scope (under unfortunately poor light conditions) with the fortunate folks who wandered out to Rome Point to enjoy this fair weather seal watch.
4-7-2013
40 seals hauled-out; 50 degrees, wind S 20+, clear, 12:00
Our seal watch today was better than expected considering the adverse wind conditions, and we were pleased to be able to view the seals from the shelter of the cedar trees, as the beach was too exposed to a harsh south wind. The bay was roughed up by breaking whitecaps and we did not get to see much interesting seal behavior, but the light was good for the scope so everyone got to see seals posing accommodatingly in spite of marginal weather conditions. We spotted the red-headed Grey seal on the cluster, a seal with a net entanglement on the low rocks to the left of the twins, and several other fine specimens on the slanted rock and flat rock. The highlight of the day for us was our granddaughter's best telescope observation ever and her first seal counting experience that was a little short on accuracy, but served to provide us with good assurance that this almost six year old child is gaining some proficiency at wildlife observation. All in all we enjoyed a fine hike; even if the marine mammal observation aspect was a bit lacking, we were thrilled to have four generations of our family participate in our seal walk, which is a memorable occasion that we have not experienced before in over 550 seal walks.
3-23-2013
102 seals hauled-out; 45 degrees, wind W 20+, clear, 11:30
6 seals on far rock for 108 seals total. The seals showed exceptional tolerance for the west wind by hauling out early in the ebb tide and staying on the rocks until splashing, crashing waves drove them from the rocks as the tide came in. The light was much better for the scope today, so all the seal seeking families who made it out to Rome Point were rewarded with nice close-up views of the seals. Everyone who braved the wind today was pleased that the beach was sheltered from the wind and the warm sun inspired basking from seals and seal watchers alike. The seals arrived at the haul-out rocks much earlier today, and the tide was quite a bit lower than our tide chart prediction for some mysterious reason, so we were a little too late arriving to catch the active behavior that we observed yesterday; but with the bay conditions so rough, its likely that the seals were less active anyway.
3-22-2013
90 seals hauled-out; 40 degrees, wind W 10 to 15+, clear, 11:30
6 seals on far rock for 96 seals total. A fine seal watch this morning with active seals putting on a good show of carousing and courtship behavior. The warm March sun served to get the seals stirred up, with lots of porpoising and a fair bit of playful interaction on display. One seal jumped five consecutive times and the general mood of the arriving seals was feisty and energetic. Not so playful were the occasional skirmishes that broke out on the cluster rock, which involved half-a-dozen seals on several occasions. The beach was sheltered from the west wind, which made for comfortable seal watching for the few seal seekers who were out and about this morning basking in the sun. However, the bright mid-day sun this time of the year is often detrimental to the optical conditions for telescope observation, which was the only downside to a very good three hours of seal observation that we enjoyed today.
3-17-2013
11 seals hauled-out; 42 degrees, wind NW 15 to 25+, partly cloudy 15:30
2 seals on far rock for 13 seals total. The most disappointing seal watch in many moons today, with windy conditions that were not in the forecast. The wind peaked with gusts around 30 mph right at the wrong time... just as the seals were arriving to haul out. At first we were hopeful that the seals would not be deterred when a couple of seals hauled out on the ridge rock, but by the time these two seals dove back into the water it was apparent that today was not destined to be the big seal day we were hoping for. We observed about a dozen seals swim up to the rocks
,
take stock of the situation, then disappear back into the choppy waters. Fortunately some seals that arrived before the wind got out of hand and a couple of late arrivals provided very good views for the fair number of onlookers who showed up in the late afternoon, so all in attendance has a chance to see seals... just not the amazing seal observation that has been taking place on good days for about the past 3 weeks.
3-16-2013
120 seals hauled-out; 40 degrees, wind NE 5 to S 10, partly cloudy 14:50
6 seals on far rock for 126 seals total. The seals were out early in the tide with 60 seals on the rocks more than 3 hours before low tide; the seals enjoyed lounging around on submerged rocks under the calm conditions. One seal that did not enjoy its resting spot for too long was the hapless seal that tried to take Linebelly's pointy rock. We had just determined that the seal on the pointy rock was not Linebelly when the feisty Linebelly arrived on the scene and quickly made his intentions to seize his favorite rock known to the intruder. The skirmish for the pointy rock was short but spirited, as the much larger Linebelly quickly asserted his dominance. In less than a minute the loud, splashy battle was over and Linebelly took possession of his rightful place. Once again the seals were not especially energetic as they approached the rocks, but we did observe examples of all the typical active seal behaviors before the herd settled down, including one particularly amorous courtship display.
Seal watching took a turn for the hectic around 3:00 pm with the arrival of a big group of families out for a nature walk. We were happy to share our scope with the children and adults in this large, organized group, although so many children arriving at one time does serve to distract from the stars of the show: the seals. We hope to see some of these nice families again at Rome Point out for a hike on their own, so we can give them a better, longer look at the seals; nonetheless, many of the children who got a good look through the scope were amazed to see the seals up close, and their delight was apparent and gratifying to see.
3-14-2013
95 seals hauled-out; 35 degrees, wind WNW 20 to 25+, partly cloudy 15:00
4 seals on far rock for 99 seals total. Winter returned with a vengeance, however, we persevered and managed to enjoy a fine seal watch this afternoon. The seal count was down a bit compared to recent observations due to the extreme wind, but we watched the rocks fill up with seals as they gradually came in to take their rest. There were a few flurries of activity as the seals arrived and several seals coupled up to frolic, but for the most part the seals were kind of subdued. Just before we left, a seal used a submerged rock for a belly and back scratcher which is not something we see everyday.
We so badly wanted to keep up our run of consecutive days of over 100 seals that we counted repeatedly, but we just could not break the century mark. When I count large numbers of seals, I count frequently and carefully; every little whisker or tip of a tail that I can glimpse gets counted as a seal. Today I had two counts of 96 and 97 seals, but when I could not duplicate those counts on a second pass I rejected those numbers. I came up with 95 on several tallies, so 95 it is for the day (+4 = 99), no matter how much we wanted to keep our 100 seal streak intact. The seal count that we report is always conservative and we are sure that there are seals hauled out behind rocks that we cannot see on many occasions, but we take pride in the consistency of our seal counts and would never stretch the true count for any reason.
3-13-2013
160 seals hauled-out; 50 degrees, wind WNW 10 to 15, clear 14:30
6 seals on far rock for 166 seals total! A spectacular seal watch this afternoon with the most seals we have seen in almost 2 years. The sound of wood frogs chirping in the vernal pools put an extra spring in our step and brought spring to mind during our hike out to the point. We arrived too late to see the best of the seal show; with a NW wind pushing the ebb tide most of the seals were already hauled out and settled more than two hours before low tide. However, the sight of so many beautiful marine mammals all congregating on the rocks was consolation enough for our tardy arrival, and sometimes work responsibilities must take priority over seal watching. There were 3 juvenile seals on the white rock again today, making this the first time that we have ever seen seals on this rock for three consecutive days.The seal herd really got some heavy rest today with no disturbances to rouse them from their slumber. The seals remained settled as the rising tide gradually displaced those seals perched on the lower rocks, and the seals departed with little fanfare as they made their way to the ocean to find their supper.
3-11-2013
125 seals hauled-out; 45 degrees, wind S 10 to 15, cloudy to partly cloudy 12:30
6 seals on far rock for 131 seals total. Excellent seal watching again today with lots of territorial behavior, including some of the most ferocious sustained seal fighting we have ever witnessed. There were just a couple of other visitors around early in the seal tide, in contrast to yesterday; this gave us a good opportunity to shoot some interesting video. The seals settled quickly after the initial bouts of territorial squabbles, but there were a couple of juvenile seals on the white rock that seemed a bit nervous. Sure enough, at 12:30 these seals jumped off the white rock, and the sound of their splashes triggered a slow-motion mass exodus from the rocks. Slowly, the panic spread from left to right across the rocks as seals jumping in the water created a domino effect of.... more seals jumping into the water. Only 55 seals remained on the rocks at the conclusion of the spooking event and with a building south wind, a good number of seals left for the fishing grounds.
A few seals did return, leaving about 75 seals for the viewing pleasure of late arriving seal watchers. And pleasurable seal watching it was for the kids who came out to see seals this afternoon, most notably young scientist Logan, who showed remarkable interest and aptitude for seal observation. This seal watch had a little bit of everything and a whole lot of seals, continuing the great run of seal watching we have enjoyed in March.
3-10-2013
152 seals hauled-out; 45 degrees, wind NE 15 to 5, cloudy to clear 11:45
5 seals on far rock for 157 seals total. Seal watching today was fantastic, and everyone who came out to see the seals got to see outstanding views of wild marine mammals. Our seal watch started at 10:00 am with a raw northeast wind chilling us... and active, territorial seals thrilling us. The seals were apparently tired from all of the recent harsh weather and were eager to get on the rocks to have a long, relaxed, and restful nap. There were a dozen seals on the white rock, which is only accessible to the seals on a astronomical high tide. We rarely see seals on this rock, so we took the photo below to commemorate this unusual sight.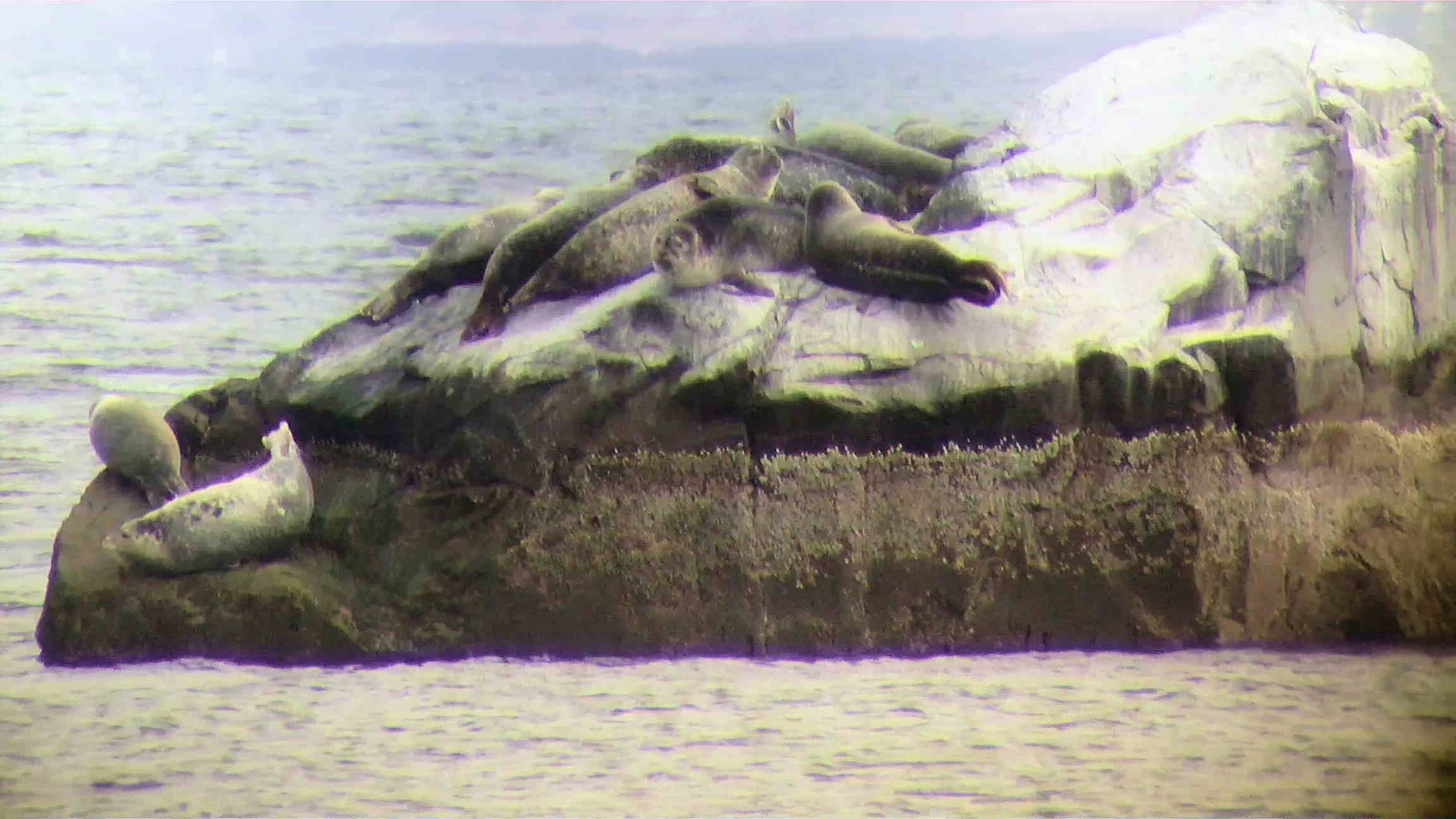 As more seals arrived, most of the rocks were still submerged; however, this did not deter the seals, who proceeded to occupy each rock as soon as they were able to gain sufficient purchase to stake their claim. This resulted in numerous splashy seal fights that took place in the shallow water; I have never seen so many seals fight over still-submerged rocks, and I attribute this ill-mannered behavior to the seals being so tired from the past five days of stormy and windy weather. The seal shown below is delivering a tail bite to the poor seal on the rock; ultimately, the seal that was doing the biting proved to be the stronger contender as it seized the rock from its smaller rival.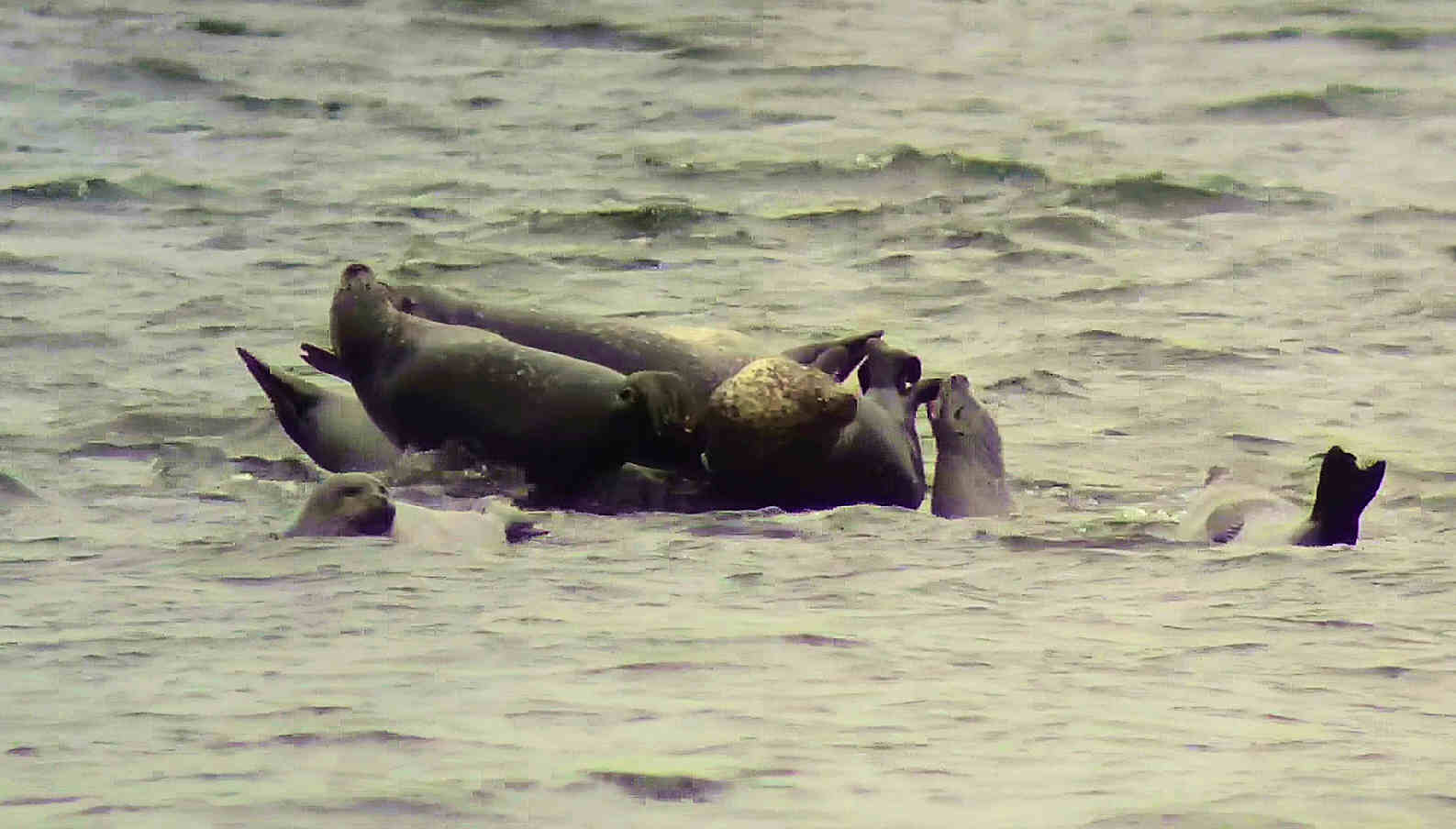 As the day progressed, the seals settled down, but right after the 11:45 seal count about 60 of the seals spooked off the rocks for no apparent reason. This shuffled the seal deck and brought the red-headed Grey seal shown below out into the open where it could be plainly seen and admired.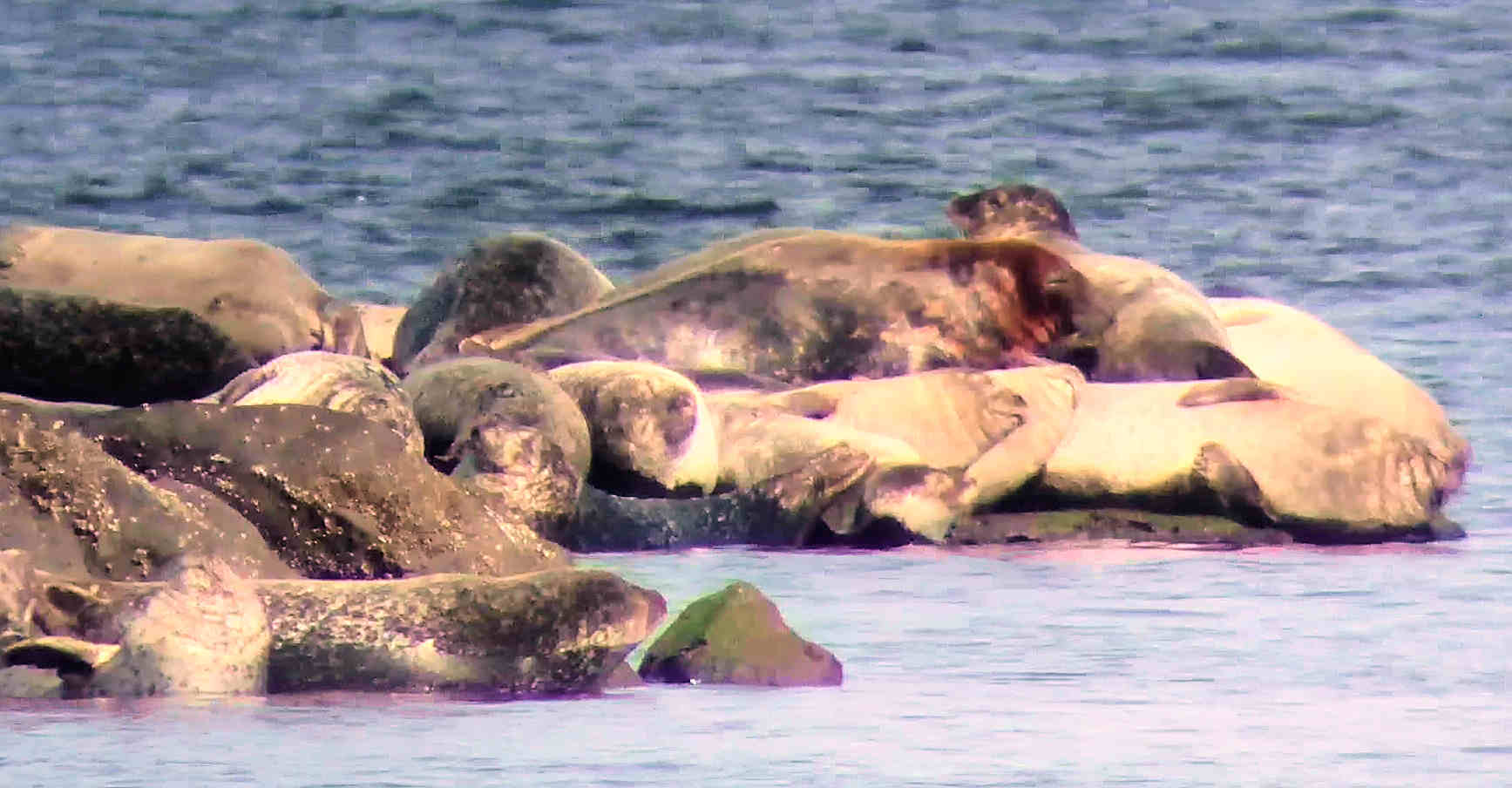 A recap of today's seal watch would not be complete without making mention of all the nice families who joined us on our seal watch. Of special note were the students and exceptional teachers from Fishing Cove School in North Kingstown; it was especially our pleasure to spend time with these curious and well-behaved children and their dedicated teachers. Time and again we hear of strife in public education and stress caused by tight budgets... and year after year we are encouraged by the groups of school children and their adult leaders that we encounter at Rome Point. That these teachers and the other adults in their group are putting the kids first is as commendable as it is undeniable... its a privilege to share our knowledge and equipment with these folks, as well as with all of the families who leave the TVs and computers behind to take the kids for a nature adventure at Rome Point.

3-2-2013
96 seals hauled-out; 40 degrees, wind calm, cloudy 15:00
6 seals on far rock for 102 seals total. Awesome seal watching was enjoyed today by everyone who was fortunate enough to choose this afternoon to take a hike to see the seals at Rome Point. We consider ourselves fortunate when we get a good look at just a few interesting sights when we set up for seal observation, but today we were constantly amused for 2 1/2 hours by a continuously spectacular seal show. Territorial behavior, courtship activity, curiosity, active seals jumping and tail-slapping, loud vocalization, and a couple of Gray seals all contributed to an entertaining and exceptionally interesting afternoon of seal observation. Calm wind and perfect light for the scope was also a positive factor, as was the steady stream of seal seeking families that seemed to arrive perfectly spaced so as to give all visitors a long, unhurried turn at the spotting scope. At least a dozen different seals took to the air in displays of porpoising, while the many seals on the rocks provided everyone with good sightings of a wide variety of seals to check out... including a big Gray seal, a juvenile Gray, a seal with a net entanglement, and... the inimitable Linebelly.
The seals finally settled around 3:00pm, but there was one more surprise in store for us when the local swans decided to make their way out to the rocks for a bit of foraging. We have seen the swans spook the seals before so we watched closely as the big white birds approached the rocks. At first, it seemed that the seals were not the least bit concerned as only a few seals eyed the swans warily. Then as the swans swam nearer to the flat rock where the biggest seals hold court, both swans suddenly plunged their heads under the water to feed. As we have seen in the past, swans that appear to be headless are a disturbing sight to the seals, and this time, the swans spooked the most stalwart, mature seals, who proceeded to vacate the flat rock post-haste. The rest of the seal herd was not impressed and only a handful of other seals took the plunge. Even before the swans moved away, the big seals quickly returned to the flat rock, as though they were embarrassed to have been frightened by mere swans. The photo below shows the seals fleeing from the swans in a panic reaction, which we are posting to shame those big bad seals into showing a little more courage the next time swans come calling.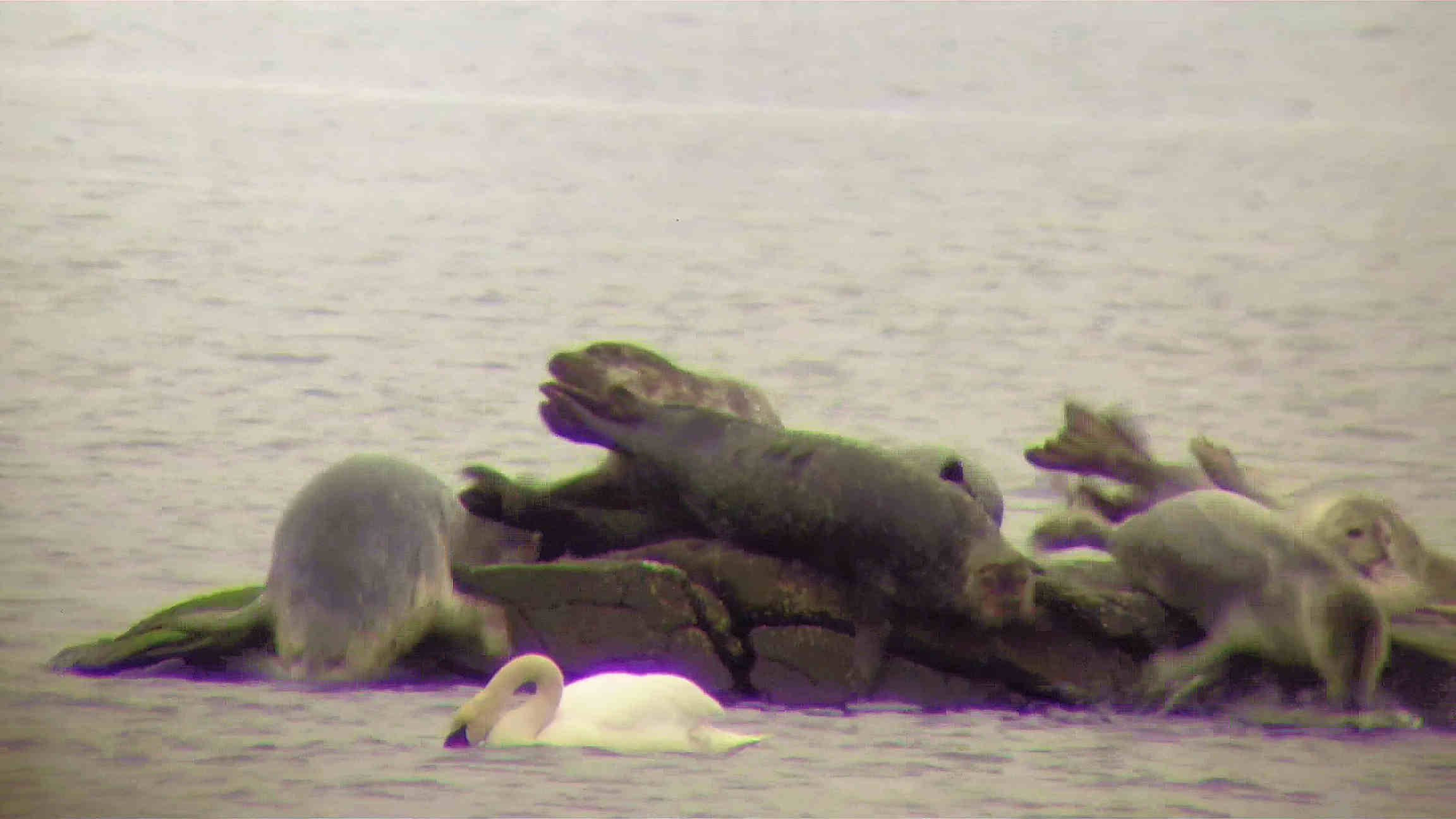 2-25-2013
112 seals hauled-out; 38 degrees, wind northeast 10 to 5; to east 10, partly cloudy 13:30
5 seals on far rock and 1 seal at Greene Point for 118 seals total. An outstanding seal watch today... best of the season so far in every way. The only drawback was there were no other visitors around to share this amazing seal watch; its too bad we did not have this great day last week when school vacation brought more hikers to the Rome Point shore. Our seal walk today was not planned, but an errand to get shoestrings and windshield wipers somehow morphed into a quick hike to check on the seals when I noticed the wind was not blowing too hard. With an easterly wind forecast we knew seal watching was likely to be a chilly proposition and when we reached the beach the wind-driven waves were pounding away on the shore. However, when we saw the number of seals that were all over the haul-out rocks, our fate was sealed for the afternoon; the scheduled tax preparation drudgery would just have to wait.
The wind faded as predicted and the seals just kept coming; before we knew it 3 hours had passed and we had been witness to a full array of seal behaviors. The seals became more vocal as the tide started to come in and with the easterly breeze, some seals could be heard growling loudly as they grew impatient with other seals that encroached on their personal space when the rising water caused them to move to higher ground. The light was great for close up telescopic observation and we took some time to try to document the seals that were present today on video for identification in the future. One seal that requires no identification is Linebelly; the Rome Point stalwart was present and accounted for on the pointy rock, and we were able to identify a half-dozen other seals as well.

2-22-2013
33 seals hauled-out; 38 degrees, wind northeast 10 to 5, cloudy 12:00
4 seals on far rock for 37 seals total. The already good seal observation improved significantly today with less wind, better light for telescopic viewing, and the seals positioned well in photogenic poses with the easterly wind at their back. There were quite a few seal watchers out for a hike around mid-day and everyone who had a chance to check out the seals through the scope was suitable impressed with the opportunity to get up close views of wild marine mammals. The cheerful fellowship we all enjoyed served to make the time pass quickly and helped to ward off the chill of the quartering wind; before I knew it three hours had passed and the tide had covered many of the rocks.
I expected that by mid-afternoon the seals would be headed out to sea, but to my great surprise instead of leaving, many of the seals headed for higher ground as the rocks they were resting on became submerged. The sight of large adult seals clambering up to the top of some of the taller rocks had me exclaiming out loud in amazement, as it is a rare sight indeed to see the mature seals expend so much energy to extend their resting time. There were still 20 seals hauled out four hours after low tide, which we seldom see even on days when over a hundred seals are present at low tide. This proved to be a bonanza for late-arriving seal seekers who were treated to the awesome sight of some of the biggest, fattest seals perched atop tall rocks where they are rarely seen. Right after Sandy passed through I observed lots of big seals resting up high on the rocks, but the last hour this afternoon was especially entertaining as I watched the seals actually ascending to their secondary rest locations. I believe that the combination of another oncoming storm forecast to arrive tomorrow and the diminishing wind motivated the seals to scale the tall rocks, thereby prolonging their afternoon naps. No matter the reason, the seal watch today was good at the beginning, and proved to be excellent by the end, and many satisfied seal watchers left happy to have enjoyed this wonderful spectacle of nature.
2-21-2013
35 seals hauled-out; 38 degrees, wind west 15 to 20+, clear 11:30
4 seals on far rock for 39 seals total. This seal watch was almost a carbon copy of yesterday, with the same seals arrayed on the same rocks in similar poses. One exception was on the flat rock, where the seals lined up facing the shore in a more flattering pose. There were no other visitors to the seal beach during my two hour stay, possibly due to the combination of a slightly more northerly wind direction that made the walk into the wind on the beach uncomfortable and slippery ice on the sheltered forest trails. The highlight of the day was a brief glimpse of a couple of seals who engaged in some nose-to-nose flirtatious activity on the surface of the white capped, wind-whipped bay. These love-struck seals were not easy to spot as they briefly cavorted among the waves, and I was pleased that I was fortunate enough to be able to watch them interact for the 5 minutes they were visible.
2-20-2013
41 seals hauled-out; 35 degrees, wind west 15 to 20+, clear 9:30
5 seals on far rock for 46 seals total. The wind was a little too brisk for optimal seal observation this morning, but while the number of seals was not exceptional, the wind did cause some interesting seal behavior. Whenever the wind backed off for a while or shifted slightly to the south seals would haul out on low lying rocks that were too enticing to pass up. Then when the wind picked up again and kicked up waves and spray these seals would get splashed and return to the water. This pattern continued for the better part of two hours for six or seven seals, providing a measure of entertaining behavior to help pass the time.
Linebelly made an appearance on the pointy rock today and stayed perched there for the full duration of the rest cycle. We also spotted a seal with a "necklace" scar from a past net entanglement on the right side of the "cluster". The seals showed a bit of determination by hanging out for 3 hours after low tide on such a windy, splashy day, which was fortunate for late arriving seal watchers out for a hike on this school vacation week.
We were advised that the Rhode Island DEM sponsored a seal program yesterday and that a number of seal seeking families had a nice seal walk; apparently, the seals obliged by sticking around late into the ebb tide yesterday as well. It is encouraging to see DEM Parks and Recreation Dept. taking an interest in Rome Point and there is a new sign at the preserve parking lot denoting the John H. Chafee Nature Preserve as a state park. We may need to enlist the support of DEM someday to help protect the seal watching experience, so we are in favor of DEM staff spending lots of time here... because we know the more time anyone spends at Rome Point, the more deeply they will come to appreciate the unique natural character of the property and its winter inhabitants.
2-15-2013
84 seals hauled-out; 45 degrees, wind south-southwest 15 to 10, clear 16:00
5 seals on far rock for 89 seals total, the most we have seen since Christmas eve. An excellent seal walk today with plenty of lively seals on display in the pleasant winter afternoon sun. We are hoping the good number of seals we saw today hang around for the upcoming school-vacation week; if they do, seal seeking families who choose a morning seal walk later next week are going to have real nice seal show to enjoy.
2-1-2013
40 seals hauled-out; 32 degrees, wind west 10 to 20, cloudy 14:50
1 seal on far rock and 1 seal at Greene Point for 42 seals total. The seals were especially frisky today as they approached the haul-out rocks; we observed at least 5 individuals performing flipper slaps or porpoising, with some seals exhibiting both behaviors. The herd was early to arrive the rocks with a dozen seals hauled out 3 hours before low tide. A few seals we have not seen for some time were present and accounted for, most notably Linebelly on his customary perch. The wind was borderline too strong for the seals' liking, but as usual they tolerated the westerly wind better than breezes that blow equally hard from other directions. With low tide around 1600 and an entertaining seal show in progress we would have liked to stay longer, but we left grateful for the good seal observation we enjoyed on our last time out to Rome Point before a spell of business travel keeps us otherwise occupied for several weeks.
1-27-2013
36 seals hauled-out; 22 degrees, wind northwest 10 to 15, clear 13:30
An all-around fun seal watch today with warmer conditions, better light for zooming in with the scope, and lots of seal watching company, including some long time Rome Point regulars. As the afternoon passed, additional seals hauled out on individual rocks to the right, providing very good views of large adult seals. The seals settled in much earlier in the tide than yesterday, so we did not see a whole lot of interesting behavior; but there was just enough action to hold our interest for most of the afternoon.
The seal in the photo below was everyones favorite today, as it rested in this ostensibly uncomfortable position for about 2 hours. Its not everyday that we get to see a big seal laying sideways on this pointy rock; most seals that perch on this spot face directly towards the shore, but this seal preferred to face away from the cold northwest wind, no matter how undignified it may have looked to seal watching onlookers.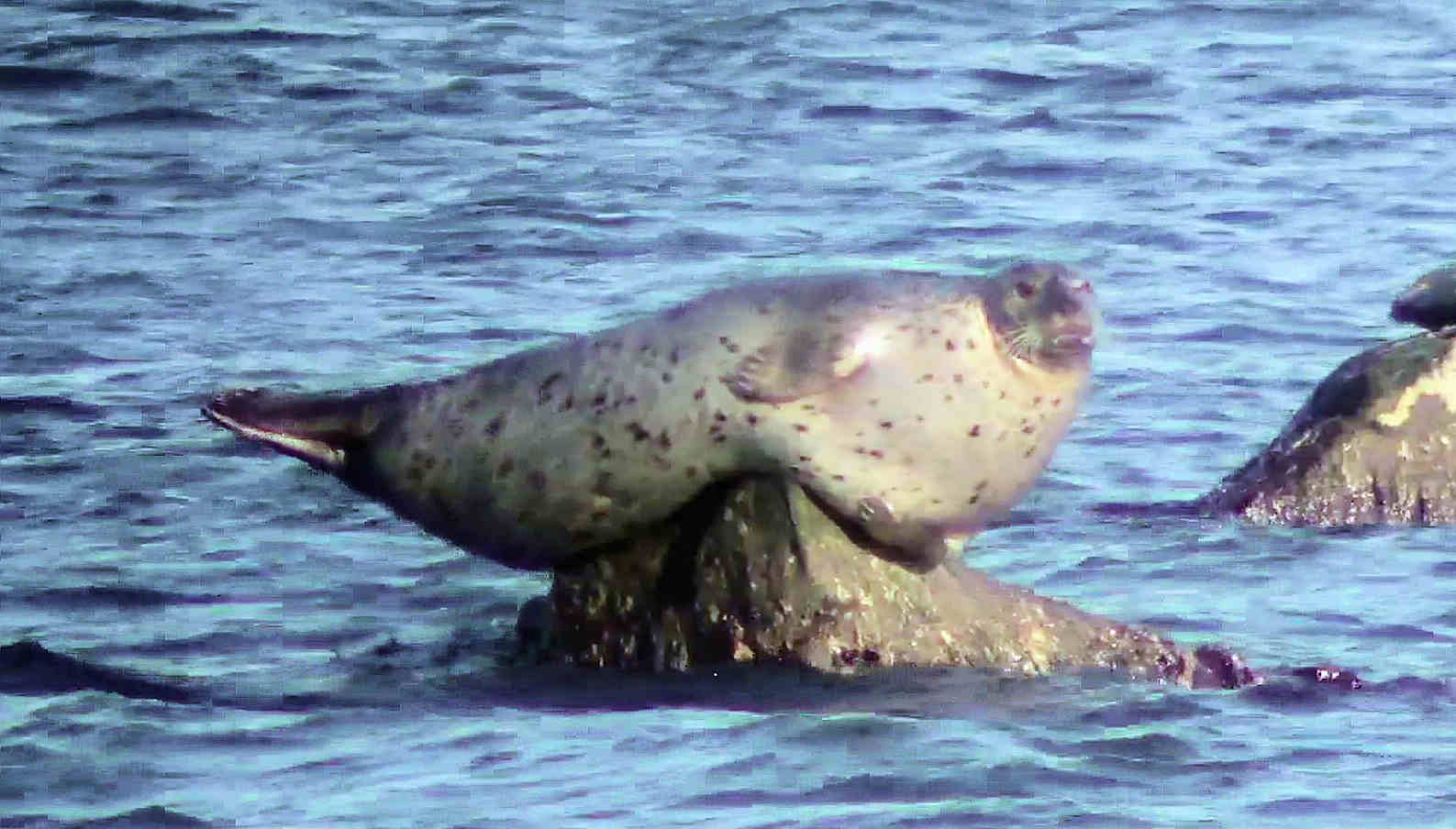 1-26-2013
25 seals hauled-out; 22 degrees, wind northwest 10 to 15, clear 13:00
6 seals on far rock for 31 seals total. The seals were late to arrive at the haul-out rocks this morning, but by 11:30 there were a half dozen seals on the rocks. We watched as the seals continued to trickle in over the next 1 1/2 hour; with the rocks high out of the water and sheltered rocks in short supply, it seemed like there was always at least one seal maneuvering to haul-out. This made for entertaining seal watching, as brief skirmishes were triggered when seals tried to access the rocks at locations that were already occupied. There was also some activity in the water with a few jumping seals to be seen and one of the porpoising seals made 3 consecutive leaps. The observation location was sheltered from the wind which was a good thing on such a cold day, and a surprising number of intrepid seal watchers braved the elements for a chance to see the seals on this chilly January day.
1-17-2013
32 seals hauled-out; 42 degrees, wind northwest 10 to 5, cloudy 16:30
2 seals on far rock for 34 seals total. Nice evening seal watch as we observed the seals hauling out in pleasant, soft, winter light. We got to see a flurry of aerial action as three different seal porpoised several times, and one rock was the scene of a brief battle for seal superiority. After reviewing 5 years of seal observation records, it appears that a mid-winter drop in the number of seals is pretty much par for the course. This lull in the seal action does not take place at precisely the same time each year, which became apparent when I plotted my seal counts on an Excel chart for the first time. The exercise of charting the seal counts proved to be revealing in several ways, not just in terms of seal behavior, but also in terms of my own perceptions and biases regarding the number of seal present at various times of the seal season. An interesting exercise for sure, well worth the data entry tedium for the additional insight that was gained.
1-15-2013
28 seals hauled-out; 40 degrees, wind north 10 to calm, cloudy 14:30
4 seals on far rock for 32 seals total. When we first arrived there were seals swimming all around the mostly submerged rocks, so we had high hopes of seeing more seals today than we have been seeing lately. The seals that were swimming about hauled out in short order but then, much to our surprise, no additional seals showed up. We scanned the calm surface of the of the bay far and wide, but we did not spot a single swimming seal after the original group hauled out. This was unusual because there was plenty of ebb tide left to run out, but after the first wave of seals hauled out we watched for almost 2 hours for more seals to arrive, but they never made an appearance.
The evidence is becoming ever more conclusive that a sizable portion of the seal herd has left the Rome Point area for the time being, perhaps to an extent that we have not observed previously over the past 12 years. A quick check of my seal observation records revealed a similar, but less pronounced pattern of a period of reduced seal presence in January/February 2012, 2011, and 2010. Prior to 2010, I could not discern any indication of seals leaving for a while in Jan.-Feb. from a cursory review of my records, but I think I will take a closer look at my past seal data in order to get a better feel for how significant the recent low seal numbers might be from a historical perspective. I do know this, the past four observations were made under ideal weather and tide conditions, so these factors are certainly not in play. The weather pattern and tide timing is going to change later this week, and it will be interesting to see what is happening with the seals after the weather/tide turn-around is complete in about a week.
1-13-2013
40 seals hauled-out; 45 degrees, wind south 5-10, cloudy 13:15
5 seals on far rock for 45 seals total. We are still seeing fewer seals than we are accustomed to seeing this time of the year, even when conditions are optimum as they were today. The light was not so good for telescope viewing or for the many photographers who showed up today to get some seal shots for their portfolios. One group of seal seekers who are not so particular about the lighting are young children and it was our pleasure to set up the scope at "kids height" for most of our visit today. The seals did not have much going on (although one seal did porpoise 3 times) but the kids did not mind, as most of them were amazed to get up close and personal views of seals in the wild.
1-11-2013
35 seals hauled-out; 40 degrees, wind calm, cloudy 12:45
2 seals on far rock for 37 seals total. Another calm day and another lower than expected seal count is causing us to wonder where all of the seals are hanging out lately; the conditions were perfect today but many seals that we saw regularly in December have not been around this week. The light was excellent for telescope observation and the seals were resting quietly, so we took advantage of the calm bay conditions to check out the many flocks of ducks that were visible. We spotted red-breasted mergansers, common golden eye, surf scoters, bufflehead, and loons on the bay, while the back cove held mallards, brant, Canada geese, and mute swans. Conspicuous by their absence were cormorants as there were absolutely none to be seen. Perhaps the dearth of fish-eating cormorants is providing a clue as to why the January seal counts have been so low... maybe the forage fish are not close by, causing some of the seals to relocate to haul-outs closer to their current feeding grounds.
After low tide, some of the seals took to the water and either departed or found a new rock to haul out on. There were plenty of rocks available, but one big seal decided that he wanted a rock that was already occupied by a smaller seal. The little seal fought valiantly, but eventually physics prevailed as the more massive seal used its weight advantage to win the rock that it wanted so badly. The photo below shows these seals fighting at the height of the battle.
After the big seal won its desired resting place, he turned on his side, thereby revealing his identity: Linebelly! If you look carefully at the photo below, you can see the telltale scar that gave Linebelly his name... which we may change to "Linebully" if he keeps picking fights with smaller seals. The smaller seal that was vanquished managed to retain a small piece of the rock after Linebelly settled on the prime spot.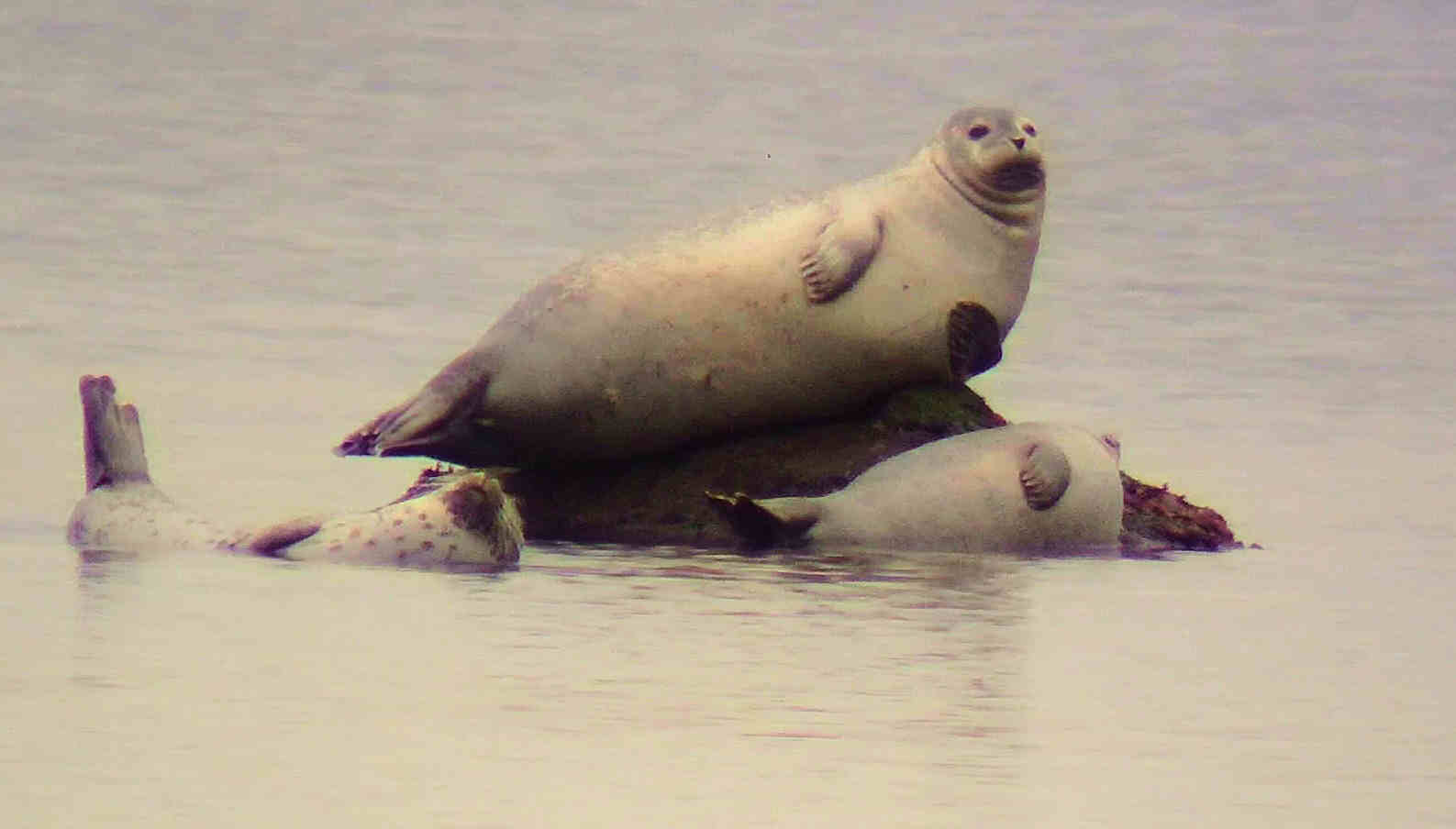 1-9-2013
55 seals hauled-out; 42 degrees, wind calm to S5, thin fog to cloudy 10:30
4 seals on far rock for 59 seals total. It was a pleasure to note that the wind was calm today in my notebook, as this was the first really calm day we enjoyed for seal watching this season. When the bay is calm, the seals will often cruise along the water surface for long distances with their head out of the water; this "gatoring" behavior was observed today and a couple of seals could be seen swimming as far as 2 miles from the haul-out rocks. The tide was very low this morning, so the seals were hauled out well before we arrived 2 1/2 hours before low tide.
We did not get to see a lot of interesting behavior today, but at 10:40 about 15 seals took to the water and decided to find new rocks to haul out on. This resulted in one epic battle for a rock between a pair of rivals that went on for about 20 minutes. Near the end of this skirmish, one of the seals involved lunged out of the water to take a swipe at the other seal's tail, which I captured in the video frame shot shown below. Eventually these seals declared a truce and shared the rock in peace and harmony for the rest of the time we were there.

1-8-2013
33 seals hauled-out; 35 degrees, wind SW 20+, clear 10:15
We were in the area this morning and decided to check on the seals and the trail conditions, in spite of wind and weather conditions that were not optimal. Predictably, there were not a lot of seals hauled-out; although southwest wind is good for seal watching, all bets are off when the wind is howling at over 20 knots as it was today. In addition, a warm front passed through the area right when the seals would have been hauling out, and we have observed that the passage of a frontal boundary tends to reduce the number of seals that we see. The seals that were present seemed happy enough if somewhat unsettled; on occasion some seals were obviously aware of the whooshing sound of the wind turbine on Fox Island, which could be plainly heard during strong wind gusts. One late-arriving seal stirred up trouble among the seals on the cluster rock, but after the smallest seal in that group was dispatched to the water, there was not any more interesting seal activity to be seen on this windy, warm day.
When the seals are not active and the astronomical tide is low, we sometimes take the opportunity to explore the inter tidal zone, and our beachcombing today uncovered a few new denizens of Narragansett Bay. First, we found that the Asian Shore Crabs are still numerous but only crabs that are the size of a fingernail or smaller could be found. This is the first time that we have seen so many of these juvenile crabs in January, no doubt these unwelcome invaders have established a permanent presence in these waters. We also noted more Red Algae than we have ever seen before and we suspect this is
Grateloupia turuturu
another Asian invader. Most interestingly, we spotted several colonies of what appear to be invasive chain sea squirts, also known as Orange Sheath Tunicate (
Botrylloides violaceus
); this is the first time we have seen these notorious slime beasts at Rome Point. The photo below shows a rock that is covered with this foul organism, we hope that somehow the sea squirts do not become widespread, as this will be one more aggressive invader that the native flora and fauna will have to compete with for survival in the complex, fast-changing bay ecosystem.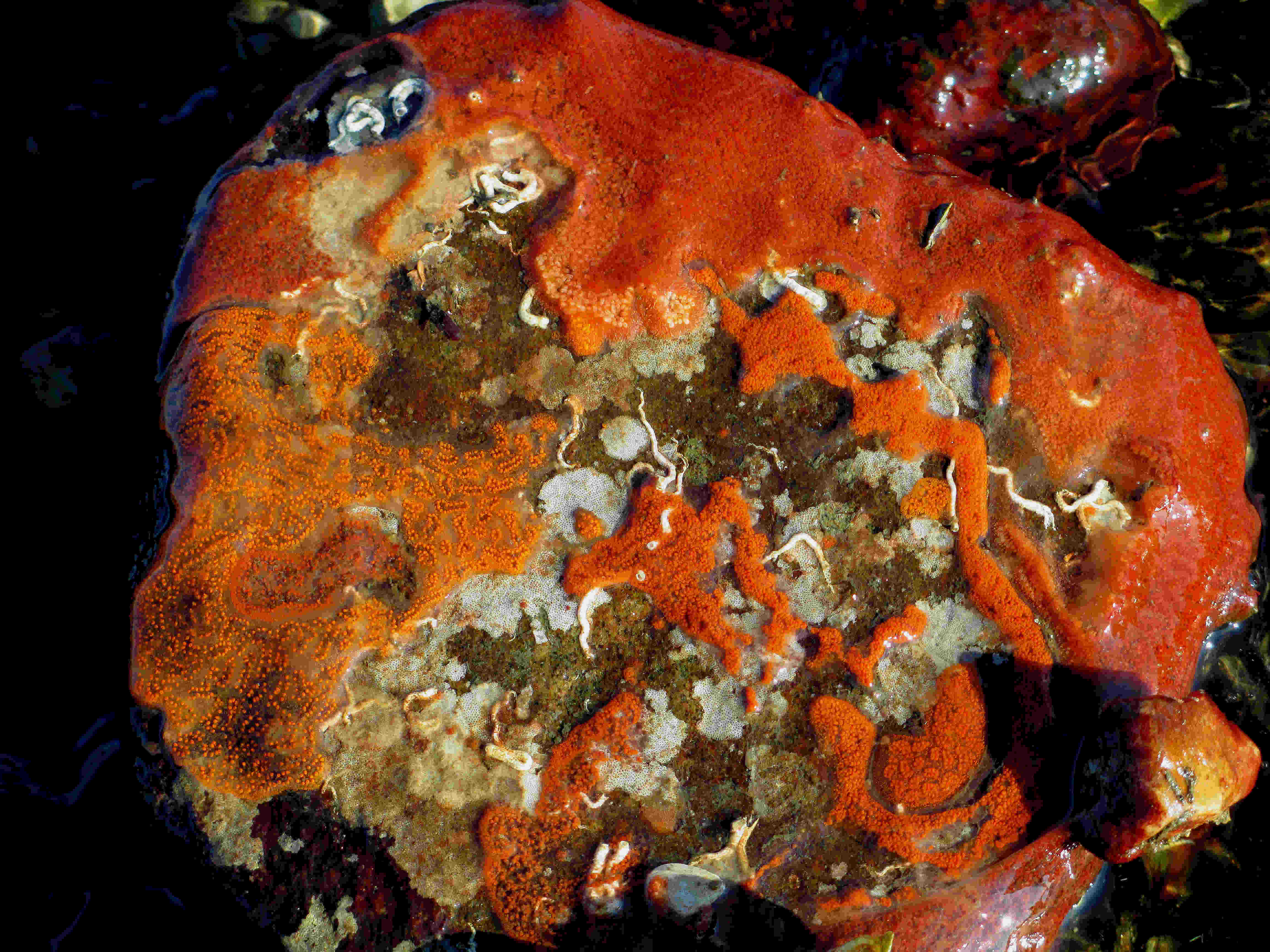 12-28-2012
37 seals hauled-out; 34 degrees, wind NW 10-15, clear 14:00
3 seals on far rock for 40 seals total. The wind was howling out of the northwest at 11:30 and the seals were not enthusiastic about leaving the water for their rest on the rocks. Several seals hauled-out and then decided that the splashy waves were not to their liking; only after the tide had receded further and the wind backed down a bit did some seals decide to remain on the rocks. By 12:15 there were about 10 seals on the rocks and by 12:45 the number had doubled to 20. Linebelly showed up and had to take on a couple of rival seals (or the same rival twice) in order to claim the pointy rock for himself. It was interesting to see a few territory issues crop up with so much available real estate for the seals to choose from, but apparently certain rocks are much prized when the bay conditions take a turn for the worse. The seals stayed active for a relatively long time, making this an entertaining seal watch in spite of the small number of seals present.
The seal with the net entanglement was present again on the left side of the center cluster, that loop of netting is sure tight around this animal's neck, but the fat seal seems to be faring OK despite its irritating affliction. There was sporadic activity in the water as another 15 seals arrived, and all the wind and wave action kept the seals unsettled for most of the afternoon. At 14:45 two kayaks showed up; the paddlers paused for a few minutes at a distance before they proceeded out towards the rocks, which spooked the seals off the rocks and out of the area. I wonder what the kayakers were thinking when they stopped to look at the seals from afar. I don't know why it is not occurring to people that spooking all of the seals off the rocks might not be the thing to do, but, for the last month at least, there have been too many times when the seals have not been afforded the consideration they deserve.
12-26-2012
32 seals hauled-out; 32 degrees, wind N 10 15, clear to cloudy. 13:00
3 seal on far rock for 35 seals total. When I first arrived, I thought today's seal watch was destined to be brief, as the light was poor for telescope observation, the chilly north wind was inescapable, and no one else was around to keep me company. In short order, the light improved greatly when clouds moved in, and to my surprise the cold breeze did not deter a steady procession of seal seeking families from making the trek out to Rome Point as the morning progressed. The north wind did keep the number of seals down today and they never did settle, but good light for viewing and plenty of pleasant company made for one of the more enjoyable seal watches of the season. I ended up staying for almost 4 hours and enjoying every minute, in spite of the uncomfortable wind.
The photograph below shows Linebelly laying sideways on a rock that is located to the left of the pointy rock that is his customary haul-out site. Shortly after I took this picture, Linebelly made the move to his favorite rock, where he stayed perched high and dry for the next three hours. The namesake scar on his belly that gives this seal his name is not visible in the photo, but could be seen clearly through the spotting scope.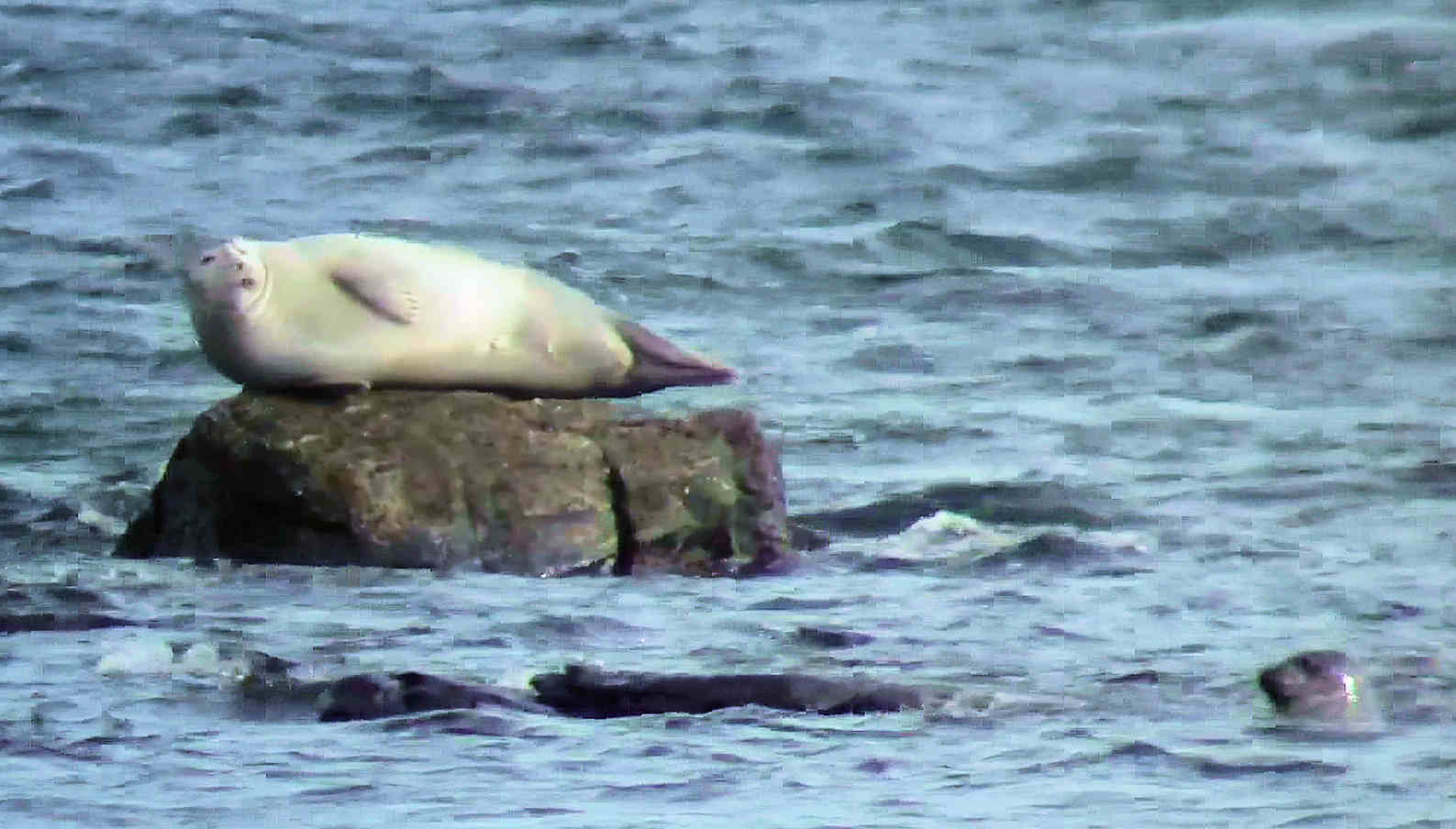 12-24-2012
85 seals hauled-out; 42 degrees, wind NW 10 to calm, cloudy. 11:00
6 Seals on far rock for 91 seals total. A classic Christmas season seal day, with lots of seals, great weather, and just enough seal watching company to make a couple of hours at Rome Point fly by. The seals were resting soundly two hours before low tide, with at least 10 seals in exactly the same locations as yesterday. There was not much scanning or any other noteworthy behavior for the first two hours, but with so many seals posing in the winter morning sun all of the seal seeking onlookers were suitably impressed. The most notable sighting was the first young-of-the-year pup we have seen this season, which we spotted atop one of the tall rocks where the small seals are usually found.
I was paying close attention to the seals on the ridge rock when all of a sudden all of the seals in my field of view snapped to alert at the same instant. Within 5 seconds these seals took to the water and the splashy commotion served to spook about 35 seals off the rocks. This is behavior we see regularly, but it was especially interesting to be watching the seals at the exact time when they spooked for no apparent reason. It looked to me like a single seal in a closely packed group triggered the mass hysteria by quickly and suddenly lifting its head and turning slightly, which in turn caused its nearby neighbors to freak out. Once the seals on the ridge rock hit the water all of the seals in the center area headed for deep water as well, however, Linebelly and all of the big mature seals to the right were not frightened enough to go swimming, but they did go on alert status for five minutes or so.
Unlike when the seals are spooked by interactions with people who remain in the area, when their own nerves get the best of them the seals will often return to rocks after they are satisfied that there was no real threat. As the seals return, there will usually be territorial disputes that result from the reshuffling of seal's rest spots. That is exactly what happened today, and with almost all of the seals electing to return to the rocks the ensuing fighting was loud and fierce, albeit brief. The seals shown below fought over this rock for a solid two minutes but the seal that is holding the high ground managed to fend off its rival.
12-23-2012
58 seals hauled-out; 45 degrees, wind W-NW 10, cloudy. 10:30
5 seals on far rock for 63 seals total. A good start to the Holiday seal watching this morning with over 50 seals laying about for several groups of visitors to enjoy. At the time we arrived the seals were well-settled, with Linebelly dozing soundly in his customary place. A photography club and a loose association of hikers affiliated with several local outdoors organizations picked a good day to visit, as the light was good, the weather was comfortable on the lee shore, and the seals were relaxing placidly for everyone to see. Close observation revealed a somewhat sick seal that coughed and panted a bit, another sighting of a seal we have seen regularly with net remnants wrapped around its neck, and a quickly repeated skirmish over a spot on the right side of the cluster rock.
The seal herd was chased from the rocks for the fourth time in our past five outings at Rome Point by a solo mariner in a 16 foot dory, who scared the seals away from afar as he motored directly to the rocks. The sight of this wayward watercraft was apparently especially disturbing to the seals with the lone seafarer standing proudly with tiller in hand in one hand and compact digital camera in the other, as every seal took to the water while the black boat was still over a quarter mile away. The only photos the feckless captain was able get were of spy-hopping, nervous seals that surveyed the situation from the security of deep water after being spooked. Another less than stellar performance by a watercraft operator today, but fortunately this one waited until almost an hour after low tide to show up and spoil the seal show. At least the seals managed to get a decent rest break and most of the seal seeking hikers got to see the seals before they were spooked today.
We are not pleased with the recent spate of seal disturbance events, which is unprecedented for December. Never before have we observed the seal herd spooked on four out of five outing during this time of the year; we keep figuring this will soon cease, but lately there seems to be no end to the parade of offenders. We do not use the term offenders lightly, and we know the seals are gonna get scared away from time to time, but the recent, repeated seal harassment has just been blatantly foolish, not a mistake by someone who excitedly gets a little too close. Seal disturbance events occur in varying circumstances, but this month the seals have been invariably been "spooked hard" as we say, and driven from the area when the offenders do not have enough sense to back off after chasing the seals away. Only five minutes before the boat arrived there was a large group of seal watchers on the shoreline, and I was left wondering whether the presence of numerous onlookers would have affected the behavior of any of the watercraft operators who scared the seals off in December.
12-15-2012
26 seals hauled-out; 38 degrees, wind NE 10, cloudy. 13:30
A disappointing seal watch with not as many seals hauled out as we would have expected. It appeared as though most of the seals may have been spooked off the rocks before we arrived, as a number of the seals were still wet when they should have been dry from resting on the rocks for several hours. Still, 26 seals is not bad, but shortly after we arrived a power boat showed up and chased all but 3 seals off of the rocks. With an uncomfortable easterly wind blowing in our faces, we did not linger after the seals were spooked. There will plenty of time for seal watching over the holidays, but we hope the recent spell of seals being spooked by watercraft soon comes to an end.
12-14-2012
56 seals hauled-out; 45 degrees, wind W10, clear. 15:20
6 seals on far rock for 62 seals total. Some days just cry out for a seal walk and this was definitely one of those days. The seals, mercifully oblivious to the realm of human affairs, were profoundly settled when I arrived an hour after low tide. The new moon astronomical low tide extended the seal's rest period and almost all of the seals present were in a deep slumber with no scanning and not a single swimming seal observed in 1 1/2 hours. I had Rome Point to myself for nearly the entire late-afternoon and enjoyed the soothing evening light alone while beachcombing in the company of peaceful, beatific seals; I found this calming and comforting environment provided a most welcome respite from the sad events of the day.
12-9-2012
82 seals hauled-out; 45 degrees, wind N10 to NE 10 to 15, clear to cloudy. 9:30
5 seals on far rock for 87 seal total. A fine morning seal watch featuring the most seals we have seen this year and good light for telescopic observation. The seals were well settled into their resting locations by the time we arrived 1/2 hour before low tide. Later in the morning, a steady stream of seal seekers arrived, including a number of seal watching acquaintences from past seasons. We were glad for the company, as the northeast wind could not be avoided; it was nice to enjoy the warmth provided by friendly company as we all enjoyed good views of the seal all morning. The canine contingent was well represented today as well, with Labrador Retrievers of all sizes and colors in attendance. There were still about 55 seals on the rocks two hours after low tide, but a solo kayaker put an end to the good seal watching at 11:40 when he inadvertently chased all but five seals from the haul-out rocks.
We noticed that Linebelly was not on his customary pointy rock and that another seal had taken up station atop Linebelly's rock. We watched as this seal rotated a full 360 degrees on the pointy rock over about a half-hour in an apparent effort to find a comfortable resting position. We have noticed before that Linebelly is the only seal that is able to get good rest while precariously perched on the pointy protuberance; other seals never seem to get settled, and we have even seen several tumble off the rock as they maneuver to try to find a comfortable position. The seal pictured below ended up draped over the pointy rock trying to get comfortable.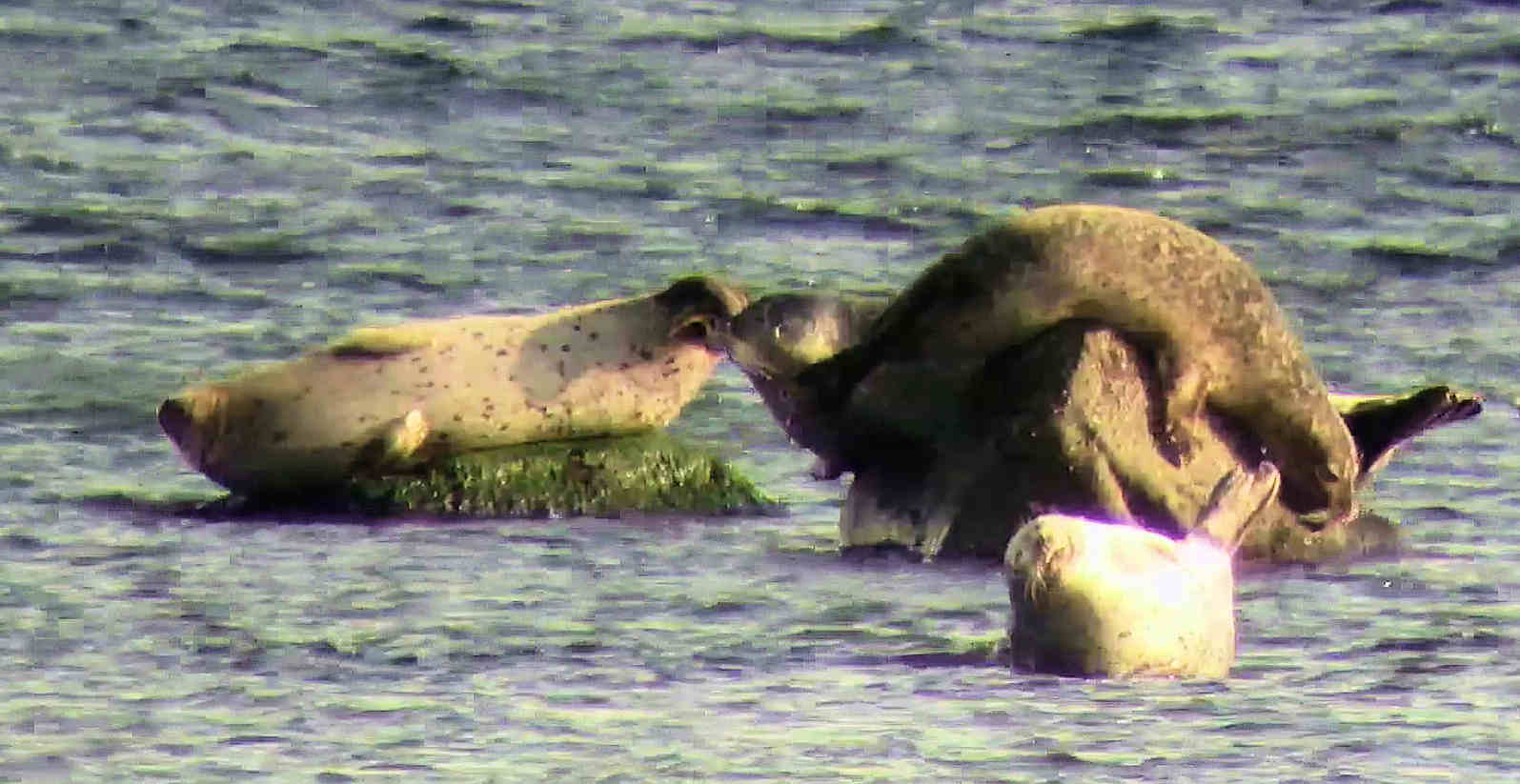 This does not look very comfy, but it suited this seal just fine.... until the arrival of Linebelly fifteen minutes after this photo was taken. I heard some growling and got the scope on this rock just in time to see Linebelly administer a bite on the nose to the vulnerable seal with its nose near the waterline. The seal draped over the rock wisely fled from its perch and, over the course of a half-hour Linebelly ascended to his regal throne, as pictured below.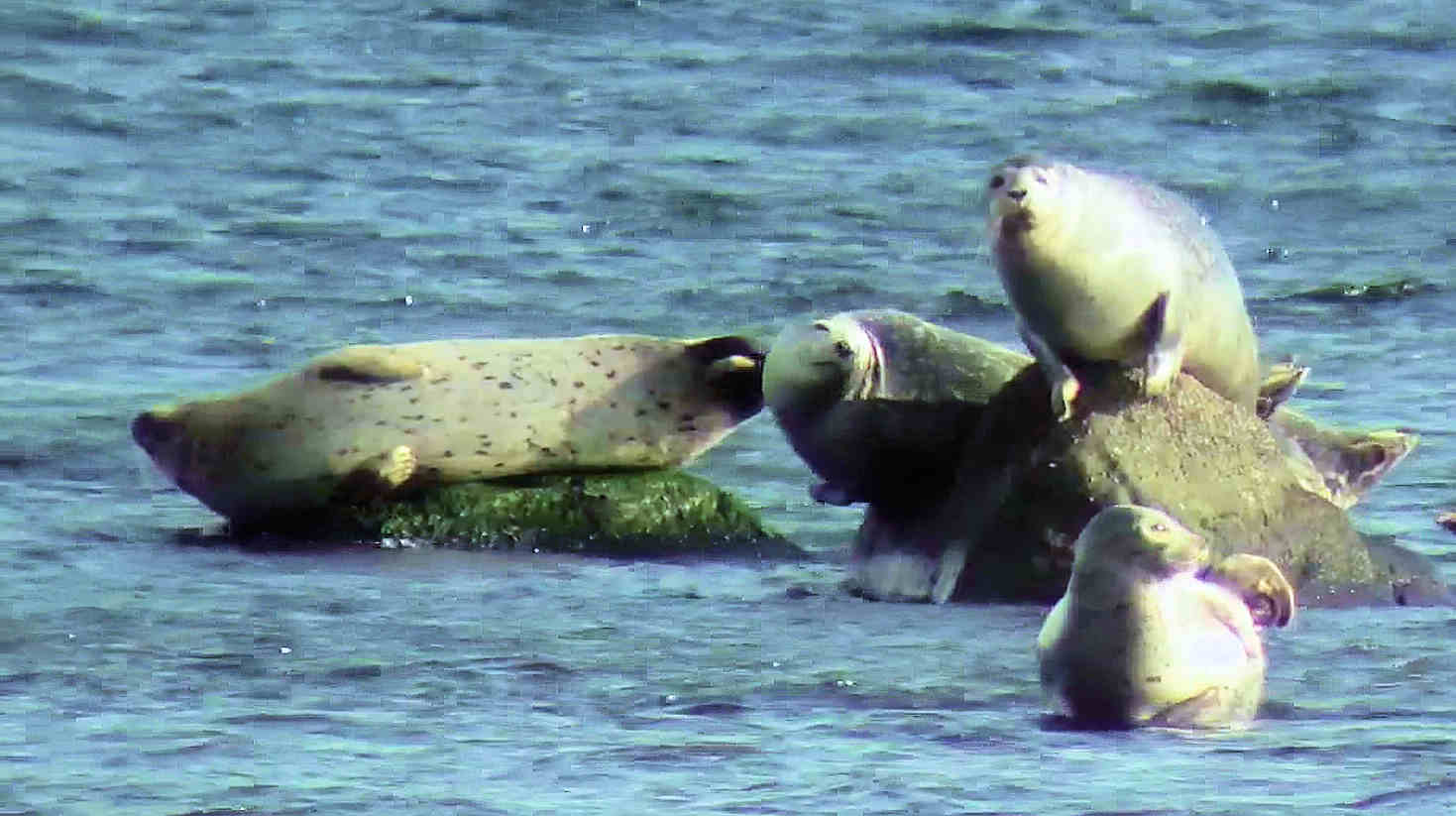 Within 5 minutes of this picture being taken, Linebelly had settled into his nap routine, only occasionally shifting position slightly or scanning the area. We arrived too late in the ebb tide see much interesting seal behavior this morning, but leave it to good old Linebelly to entertain us, as he has done many times over the past six years.
12-3-2012
72 seals hauled-out; 58 degrees, wind NW 10 decreasing to 5, clear. 14:30
7 seals on far rock for 79 seals total. Outstanding seal watching today with the seals putting on a fabulous show of marine mammal behavior for the few lucky onlookers who were fortunate to choose this afternoon to take a walk at Rome Point. I watched as the herd hauled-out on the rocks and claimed their territories with loud vocalizations and associated aggressive behavior. Some resting rocks were the sites of repeated battles as feisty seals fought to procure the spot that they preferred. One late-arriving large seal made trouble at three different rocks, where he was ably repelled by the defensive occupants, but not without a loud fight in each case.
The photo below of a seal biting another seal's tail is too good not to post. Tail biting is the penultimate bad seal behavior and we do not see this "nuclear option" deployed very often, let alone get a picture of the malefactor in action. The seal that was bit immediately spun around and took to the water to administer a measure of revenge, I do not know what happened to the biting seal, but the seal on the rock reclaimed the rock within a minute and was not attacked again.
I enjoyed almost two hours of some of the best marine mammal observation that Rome Point has to offer today, including a few agile aerial maneuvers and some of the most intense seal vocalization I have ever heard. With a September trip to Yellowstone still fresh in my mind, I could not help but compare the seal watching today with the wolf watching we were privileged to enjoy at America's most renowned national park. In Yellowstone, there is admittedly more of an opportunity to see something truly once-in-a-lifetime, and there is more variety as bears, coyotes, foxes, elk, antelope, bighorn sheep, moose, and the ubiquitous bison can all be seen on occasion. However, Rome Point has some advantages as well, including more reliably consistent wildlife that are not as far distant and a sheltered, waterfront observation site located away from the road. In addition, at Yellowstone it is not uncommon to have over 100 people present at a single roadside site for wolf watching, which serves to detract from the wilderness experience.
I am sure that Yellowstone provides a more unique and memorable wildlife observation opportunity
at its best
, but seal watching at Rome Point measures up surprisingly well in comparison. The seal observation I enjoyed today was every bit as interesting as watching a pack of wolves romp through the Lamar valley, and the reactions of the seal watching newbies who happened along and got to see the seals in action was nothing short of amazement. Yellowstone is a spectacular nature wonderland but the wildlife viewing is unpredictable with a big random component, the area is vast, and a slow morning at Yellowstone can be very disappointing, especially when considering the distance traveled and dollars spent. We are most fortunate to be able to enjoy all of our favorite wild places and each one is unique; however, Rome Point is so accessible and the dependable seals are truly wild creatures worthy of close observation that we feel, all things considered, that our under-appreciated hometown seal observation site is a place to be treasured and protected on a par with a national park.
All of which brings us to the conclusion of our seal watch today, which was brought to an early end an hour before low tide when a single clueless kayaker paddled out to the rocks and scared all of the seals away. I have always considered occasional seal and watercraft interactions to be part and parcel of the seal watching experience at Rome Point, but lately I am reconsidering my fairly high tolerance level for those who thoughtlessly disturb an entire herd of resting marine mammals. The kayaker today was ill-equipped to be on the bay alone at this time of year and was observed chasing the seals away on several occasions last spring. While incidents of the seals being spooked by watercraft have become less frequent in recent years, there is an unfortunate trend developing where on calm temperate days, which are prime days for the seals to get a good rest (and for people to get a good look), some fool in a kayak will show up and disturb the seal's rest while spoiling the seal watching as well. Anyone who pulled such a stunt with a pack of wolves in Yellowstone would find themselves the recipient of a hefty fine with no chance of a warning, as the wolf watching community has park rangers on speed dial and they do not hesitate to make the call.
Usually, seeing the seals get spooked does not bother me as much as it did today, but watching this repeat offender blatantly chase all the seals away, to the detriment of both the animals and late-arriving seal seekers, did get to me a little bit. Harbor seals enjoy federal protection comparable to wolves, but here there is no law enforcement presence readily available to interdict violators of the Marine Mammal Protection Act, such as the park rangers do for wolves in Yellowstone. I am about one more untimely seal disturbance away from contacting both the Coast Guard and the RIDEM to see what can be done to provide enhanced protection for the Rome Point seals, while establishing a pre-arranged, formal process for reporting and effectively dealing with individuals who repeatedly disturb the seal herd.
11-29-2012
75 seals hauled-out; 38 degrees, wind W 10-15, clear. 13:30
6 seals on far rock for 81 seals total. Perfect seal watching conditions were too tempting to resist today, despite our busy work schedule that does not leave much spare time for wildlife observation lately. The seals did not disappoint, with lots of seals in picturesque repose under ideal light for telescope observation. The old stalwart Linebelly was perched upon his favorite pointy rock for the first time this season, proudly showing off the additional blubber he has pack on during his summer travels. Other familiar seals were recognizable scattered among the low-lying rocks. Few other hikers ventured out to Rome Point this afternoon; at low tide my only companion was a Sharp-shinned hawk that perched for a while in the nearby trees.
This seal watch had a definite winter feel for the first time this season, with numerous Red-breasted Mergansers and two pairs of Common Goldeneye accentuating the wintry mood. There were a couple of unusual birds picking around on the seal rocks, I believe these were Ruddy Turnstones, although my shore bird ID skills are not especially keen. The shoreline was again littered with jewel-like bay scallops and there were even a few Asian Shore Crabs still to be found among the rocks closest to the waterline. Although I arrived too late in the ebb tide to observe much interesting seal behavior, the placid and relaxed seals suited the mood of this quiet late fall day perfectly and I lingered for a couple of hours to savor this most enjoyable outdoor outing.
11-11-2012
26 seals hauled-out; 60 degrees, wind S 10, partly cloudy. 11:00
A fairly unremarkable seal watch today, notable mainly for the comfortable, balmy temperatures. There were a lot of boats out and about for November, including fishermen setting pots for Channeled Whelks, but all the watercraft left the seals alone for a peaceful rest. And rest they did, the seals were zonked out when we arrived and barely summoned the energy to raise their heads to scan when a boat passed nearby.
Sometimes the shoreline at Rome Point holds more interesting nature secrets that the seal rocks do; that was the case today. I was surprised to find numerous big bay scallops scattered all along the shore, so many that we could have easily gathered enough scallops for a fine lunch if we had been so inclined. We started noticing a lot more scallop shells on the shore last winter, but today with an astronomical low tide there were not just empty shells; instead, the shoreline was strewn with the healthy, tasty bivalves. We enjoyed several bountiful harvests of blue crabs last summer, perhaps on the next moon tide we will bring along a little cooler and make a meal of sweet bay scallops after our seal walk.
The crustaceans were also well represented today as every likely hiding rock concealed many Asian Shore Crabs. I was pleased when my grand-daughter proclaimed these crabs an "invaded species", close enough for a five year old naturalist to make her Grampie proud that she remembers her nature lessons so well. The scampering crabs scoot for the safety of the nearest rocks when they are exposed by turning over their hiding places, providing a measure of entertainment for young and old alike. Last fall when we looked for Asian Crabs on October 30 there were none to be found, but this season the warm temperatures are allowing them to hang around for an extra couple of weeks. A couple of days with below freezing temperatures will send all of the thousands upon thousands of crabs scurrying off to deep water, not to re-emerge until next summer.
11-1-2012
60 seals hauled-out; 55 degrees, wind SW 15, partly cloudy. 16:00
A quick check of the seal rocks from way down the beach through binoculars revealed only a few seals on the barely exposed low rocks 1 1/2 hours before low tide. I was distracted on the beach by trash pick up duty, so I did not take another look at the seals until I arrived at the point. When I took a second look, I was amazed to see at least 45 big adult seals crammed together on the tallest rocks. I had never seen this before, sometimes a few adventurous big seals will be hauled out on a tall rock or two, but never so many big seals all over every tall rock with plenty of unoccupied space on the most favored low, flat rocks.
Clearly
,
this unusual behavior was a result of the storm, but why would the seals' behavior be altered 3 full days after the storm passed? My best guess is the the seals are worn out from several days of swimming in rough seas and require extra rest; by hauling out on the highest rocks they can extend their rest period on both ends of the cycle. However there could be other motivations for the high rock hauling out, maybe the forage fish the seals depend upon have become scarce after the storm and they are conserving energy by reducing the time that they spend on the hunt for food. Or perhaps they have just had enough of the ocean for a while after contending with big waves and wind driven currents and want to get as far from the water as possible. Whatever the reason, it would be interesting to see how long it takes until the seals' haul out behavior returns to a more normal pattern, but we will not be around to check on the seals again for another 10 days or so.
These are some of the big seals that were perched atop the tall rocks we call the "twins" today, who knows how long it will be until we see so many big seals perched high above the surface of the bay.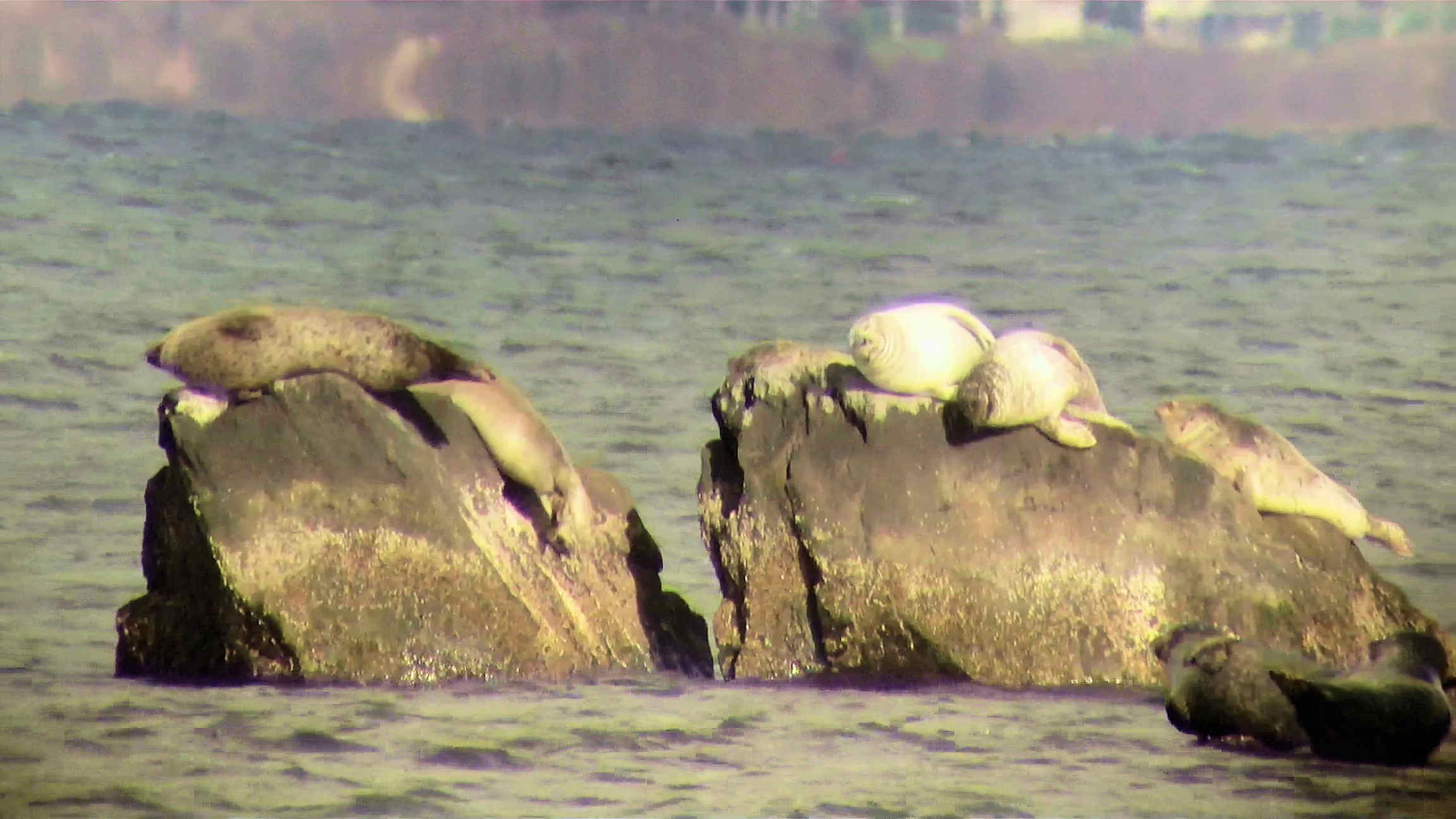 10-27-2012
53 seals hauled-out; 65 degrees, wind E 5, clear. 12:30
We enjoyed excellent seal watching with the seals putting on a feisty show of territorial behavior for most of the time that we watched them. As low tide approached, large seals continued to arrive and these late arrivals all seemed interesting in hauling out on the flat rock, which was already occupied by big seals. A couple of the latecomers were able to gain a "flipper hold" on the flat rock, but another half dozen seals were ably repelled by the flat rock occupants. Two of the seals that were not able to haul out on their rock of choice went porpoising away in apparent splashy frustration, which is behavior we rarely observe from the large mature seals. We were left wondering whether the skirmishes we observed today will be instrumental in determining the hierarchy of the seal herd for the upcoming season. It may take a number of challenges between rivals vying for the same territory to sort out the seals' pecking order, if so, the fighting we observed today may continue for another month as additional migrating mature seals continue to arrive at Rome Point.
We believe we observed Linebelly on the flat rock today, so perhaps this long-time Rome Point resident has advanced in status to a degree where he can maintain membership in the exalted flat rock club. On the other hand, Linebelly was seen on the flat rock in October last year, but by Thanksgiving he was back on his customary pointy rock perch. We recognized at least 4 other returning seals from last year and we also saw a seal with a loop of netting entangled around its neck. We were hoping to catch a glimpse of the juvenile seals that were rehabilitated at Mystic Aquarium and released at Charlestown this week, but we did not see these seals, which can be identified by a tag on their tail flipper. We hope these young, inexperienced seals are savvy enough to ride out the predicted ocean storm, as their ability to handle a storm in the open ocean may have been diminished by growing up in captivity.

10-14-2012
35 seals hauled-out; 65 degrees, wind SW 15-20+, cloudy. 12:00
First seal watch of the fall 2012 seal season!

A brief but very enjoyable seal walk today, as we took advantage of favorable conditions to hike out to Rome Point to see the seals for the first time in almost 6 months. We were pleased to see a good number of seals with excellent lighting for close-up observation. Several seals were recognizable from past seasons, including Linebelly who was hauled out on the left side of the flat rock. To the left of Linebelly, a smaller seal showed signs of illness; this seal panted and coughed frequently, which is distressing to see in light of last season's unusual seal mortality event. Better keep to your own rock Linebelly, lest you catch the flu from this poor sick seal. The other seals were a bit unsettled in the windy conditions but an astronomical low tide served to keep the herd high and dry despite some good size waves breaking on the rocks.
It was great to see how clean the beach was as we made out way to the point; we only managed to find a couple of small pieces of trash to pick up at the seal viewing location. There is a contingent of Rome Point regular visitors who all pitch in help to keep this place clean, as well as periodic organized beach clean-up campaigns that contribute to the relatively litter-free condition of this nature preserve. This stands in stark contrast to some of our other favorite Rhode Island waterfront locations, which have seen a notable increase in trashy detritus in recent years. We have noted an increase in both litter and trashy behavior at a number of places since the RI state beach admission fees were raised in 2011; apparently, the word has spread rapidly in certain circles about waterfront locations that do not charge admission fees during the summer months. We rarely visit Rome Point during the summer, but we suppose that the number of people taking advantage of the free bay shore access has increased here as with other locations that we frequent in the summer. Thanks to everyone who helps to keep Rome Point preserve so clean, the community of Rome Pointers who care for this special place is a big reason why it remains such a special nature treasure year after year.
During the last two weeks of September, we were privileged to take a trip out west to Colorado and Wyoming for some spectacular wildlife observation and outdoor recreation. I formerly lived in Colorado for over ten years, but it has been eight years since I have been back out to the Rockies. There have been a number of changes to the western landscape since our last visit, including many square miles of pine trees ravaged by beetle-kill and wildfire, unprecedented low water levels in reservoirs and lakes, and vast, previously unspoiled areas newly disturbed by gas and oil development. Still, there seems to be an ethic of environmental stewardship that permeates the mountain towns we love, and a level of appreciation of the natural world that is much diminished on the urbanized eastern seaboard. You could drive for a hundred miles out west and not see a single piece of trash along the road; even in rural Hope Valley where we reside, you would be lucky to travel a single mile before encountering roadside litter.
Upon our return from our rocky mountain vacation, I had some difficulty re-acclimating to the pace and tenor of life in the northeast. Leave it to Rome Point to renew my faith in (some of) my fellow citizens, as this local nature hideaway remains just as unspoiled as we left it back in April. We find a measure of inspiration and encouragement in the small favors that people do out as they go about their business; sometimes the collective action of a small group can have an effect much greater than the sum of the effort expended. In the case of Rome Point, a few people keep the area clean, which in turn makes the preserve nice for all the visitors to this semi-urban nature oasis. Encountering such a clean natural environment surely motivates some visitors who might be inclined otherwise to pick up after themselves for a change. The big payoff is a clean family nature experience that is free for everyone to enjoy and that constitutes a gift that is rich with rewards on so many levels as to be priceless. Thanks again to all visitors who take the time to care about Rome Point, you know who you are, but you might not realize how much your good deeds contribute to keeping this special nature preserve truly wild and natural.
---
Home
©2013 Romepointseals.org